RASO
F
Tixotropic cement-based thick skimming plaster, in white or grey,for the preparation of substrates.

MAIN FEATURES
One-pack compound
Optimum workability
Optimum bonding capacity
Layers up to 10 mm thick
Spreadable by a plaster layer

FIELDS OF USE
- Raso can be used as civil finishing of traditional or pre-mixed new and seasoned plaster backgrounds, based on calk or cement. For interiors and exteriors
- Skimming of concrete-based walls
- Realization of skimmings from 2 up to 10 mm before laying of ceramic tiles

Surfaces: Cementitious plaster, cement-lime mortar, brickwork, concrete, cellular concrete blocks*.
* Layers no more than 5 mm thick and with fiber glass netting.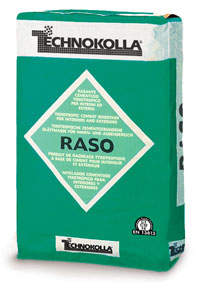 FELHASZNÁLÁSI TERÜLET

---